The Jackie Beede Memorial Wall
Thoughts about Jackie's work and influence from those who knew her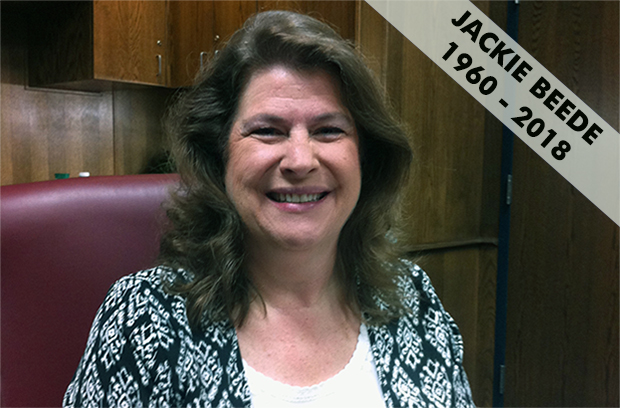 ---
Jackie was one of the most respected and beloved members of the Baldrige Community.  Her dedication, passion, and hard work inspired so many of us over the years.  She was a stellar, role-model volunteer.  Examiners and judges will speak of her contributions on many site visits and judges meetings into the foreseeable future. Through her service as an examiner, judge, and Baldrige consultant, Jackie had an indelible impact on the performance of hundreds of organizations and the lives of all those she touched. She will be missed by all who knew her.
-- Al Faber, President and CEO, Baldrige Foundation
---
I cannot fully express how much I and the entire the Baldrige Community will miss having Jackie Beede here with us. For more than twenty-three years she was a dedicated volunteer, talented consultant, and persistent advocate for the Baldrige Program. She served on the Baldrige Board of Examiners from 1995 to 2016, with a three-year stint on the Panel of Judges from 2011-2013. She has written case studies, facilitated examiner training, been on the team that evaluates the case study to create the "school scorebook", edited feedback reports, and of course, has helped dozens of organizations along their path to performance excellence] But more than all of that, what we will miss most is her gift of friendship and compassion, her desire to serve, and, for me at least, her hearty laugh and ready smile. Jackie, you have been a blessing to many of us, and we will hold you in our hearts forever.
-- Bob Fangmeyer, Director, Baldrige Performance Excellence Program
---
Jackie's dedication and passion for her work with Baldrige was evident in all she did and is not something we will forget. Even when she was not feeling well she still gave 100% to help my organization on our journey. Her loss is profound and she will be greatly missed.
-- Lisa Duda, VA New England Health Care System
---
Some people we meet along life's way leave deep impressions and Jackie Ray did that from start to finish. What a super lady and great friend.
I know you are all hurting in ways I can't comprehend and that words are inadequate for easing your, pain but you have my deepest sympathy.
May the memories of good times, (and maybe a couple of the others since she had to contend with four guys!), provide you much comfort and peace in the months and years ahead.
-- Leonard Kiker
---
Heartbroken.
Jackie is a role model and an inspiration. Heaven has no need for process improvements; now, Jackie can rest.
-- Janice Garfield, Walden University