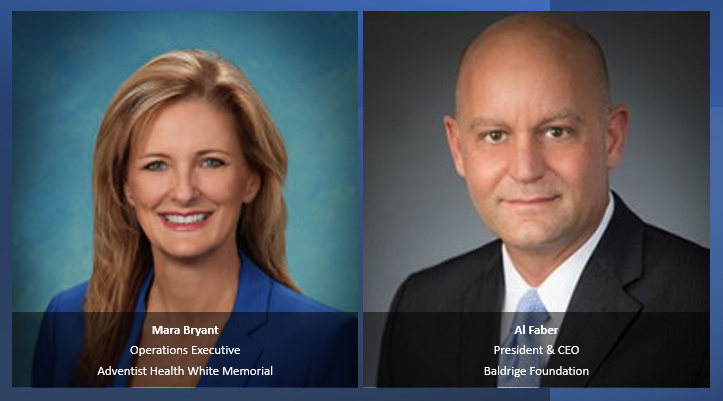 Baldrige Winner Adventist Health White Memorial's Journey of Innovation through COVID-19
---
February 11, 2021
1:00PM (ET); 12:00PM (CT); 11:00AM (MT); 10:00AM (PT)
---
At the start of the COVID-19 pandemic, Adventist Health White Memorial had to swiftly act to redesign organizational capabilities and support staff to improve wellness and retention. The existing culture of innovation and improvement allowed the organization to repurpose existing technology and expand artificial intelligence capabilities to improve patient outcomes and the staff experience.
In this webinar, Adventist Health White Memorial will share strategies and technologies leveraged to maintain and improve quality metrics and staffing wellness, addressing the challenges it faced during the pandemic. 
 
Adventist Health White Memorial was able to achieve these metrics by recognizing five key areas of innovations to deliver outcomes during the COVID-19 pandemic:
Shifting Culture & Infrastructure, with the goal of creating and achieving a sustained culture of constant improvement and an enduring quality program. This achievement was recognized and aptly awarded by their receipt of the distinguished Malcolm Baldrige National Quality Award. 
Retooling Existing Infrastructure, to manage exposed staff, provide real-time COVID test results and provide benchmarking.  
Leveraging AI/ML – KATE, providing clinically accurate real-time triage guidance to get the right patients to the right care - faster, improving triage accuracy, sepsis bundle compliance improvement and reducing risk.
Staff Support & Wellness, fostering resilience and ensuring caregiver mental health and wellbeing.
Community Engagement, co-creating innovative community relationships to develop infrastructure and deliver programs allowing us to move upstream to well-being and resilience.
Attendees Will Learn:
The key activities required to build and sustain a culture of innovation
How to design organizational capabilities to react appropriately during unprecedented emergent situations
How to engage and support staff in order to improve wellness and retention
To recognize the emerging role artificial intelligence and machine learning serves in health care operations and excellence
EXECUTIVE PANELISTS 
Mara C. Bryant, Operations Executive, Adventist Health White Memorial, Los Angels, CA
Mara Bryant is the Operations Executive at Adventist Health White Memorial. Mara leads out key initiatives including the roll-out of Project IntelliCare, implementing the Malcolm Baldrige business framework, HIPAA compliance and TJC preparation. She also provides operational oversight for Organizational Performance including Customer Loyalty, Accreditation and Patient Safety, Clinical Performance Improvement, CIS and Health Information Management (Medical Coding and Clinical Records).
Al Faber, President & CEO, Baldrige Foundation, Washington, DC
Al Faber is the President and CEO of the Baldrige Foundation, where he supports the mission to ensure the long-term financial growth and viability of the Baldrige Performance Excellence Program, and to support organizational performance excellence in the United States and throughout the world. Prior to joining the Foundation, Al served as President & CEO of The Partnership for Excellence (TPE), the premier Baldrige-based state program for the promotion of performance excellence in all sectors of the economy. Al serves on several Boards of Directors including CAHME, the Commission on Accreditation of Healthcare Management Education - Standards Council. 
We look forward to connecting with you on February 11th!