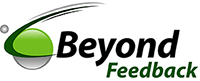 WASHINGTON, D.C. – San Antonio, Texas-based Beyond Feedback, a leader in customer and employee engagement surveys, has entered into an agreement of support with the Baldrige Foundation. Under the terms of the agreement, Beyond Feedback will donate a portion of every Baldrige-aligned survey contract to the Baldrige Foundation to support its mission and operations.
"Beyond Feedback is the perfect partner for the Foundation," said Baldrige Foundation CEO Al Faber. "They execute surveys that provide management at all levels of an organization actionable insights that lead to sustainable, positive results. They also advocate for the Baldrige framework, often introducing the concept of Baldrige to organizations who have never been exposed to the framework."
"Our process and our survey instruments are aligned to the Baldrige Criteria," said Beyond Feedback President George Taylor. "We partner with our customers not just to conduct a survey and check a box. Rather, we help to develop an organizational culture of measurement and continuous improvement that drives results."
"They have developed an impressive array of survey instruments aligned to organizational development and improvement," concluded Faber. "And with a 100 percent client retention rate of their own, you know they are doing it right."
About Beyond Feedback
Beyond Feedback is a growing and dynamic company headquartered in San Antonio, TX. Our mission is to deliver insights directly from our clients' most important stakeholders that enable continuously improving business operations. We do this by delivering a suite of tools, services, and expertise that support our clients toward that mission. Our clients are for-profit, non-profit, and government organizations throughout the United States across a wide variety of industries. One of our clients, MidwayUSA, is a two-time Baldrige National Quality Award recipient and partnered with Beyond Feedback to create a Baldrige-aligned employee satisfaction survey. To learn more about Beyond Feedback, visit our website at www.beyondfeedback.com.
For additional information please contact:
Beyond Feedback The Baldrige Foundation:
George Taylor Mark Wayda
201-591-1763 614-600-0432
george.taylor@beyondfeedback.com mwayda@baldrigefoundation.org