Baldrige White Paper Series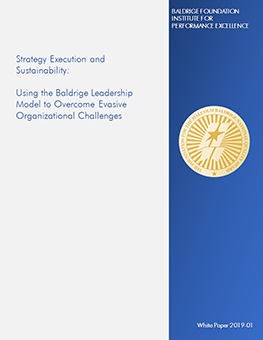 The Baldrige White Paper Series is a new original-content series from the Baldrige Foundation's Institute for Performance Excellence, intended to draw insights from the broad community of Baldrige adopters, practitioners, advocates, and theoreticians, as well as those outside the community who may have insights on leadership, management, and related principles.
Call for White Papers
To submit a White Paper for consideration, email a copy, preferably in Word format, to whitepapers@baldrigefoundation.org. Include any graphics or images in separate files (.jpg, .png, or .pdf formats). Also include the name, title, and organizational affiliation of all authors as you would like that information to appear in the White Paper, along with an email address we may include with the author(s) information.
Specifications for a Baldrige Foundation Institute for Performance Excellence White Paper
The goal of a White Paper is to inform and persuade based on facts and evidence. Specifically, we are looking for papers in which authors propose and explain how the Baldrige Excellence Framework can address a specific issue or problem facing an organization or organizations or society as a whole.
White Papers are different from ebooks and blog posts. What really set these products apart are the size, appearance, and time commitment of each one. Whereas writing blog posts and ebooks can take anywhere between a few hours and a few weeks, a good White Paper can take between a few weeks and a few months to write and polish. They are less flashy, much more serious in tone, and more heavily researched than blog posts and ebooks.
Length: No fewer than three pages, including illustrations, charts, and references (if applicable). Can be upwards of 30 if the topic requires that much detail. White Papers are usually 3,000 to 5,000 words.
A White Paper is based on established facts and logical arguments, like a well-researched article in an industry journal.
A White Paper includes documented sources or references.
Recommended Structure (not mandatory): There is usually a title page, table of contents, short executive summary (optional but helpful), introduction, several pages educating the reader about the problem, several pages hypothesizing a solution, several pages offering an example of an organization or application that used that solution to achieve results, and a conclusion.
Density: Denser than an ebook. White papers are not usually easy to skim -- in fact, readers usually need to read them over more than once to fully process and comprehend all the information contained in it.