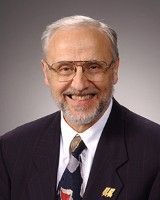 Washington, D.C. -- The Baldrige Foundation is expanding its leadership awards program with the establishment of the E. David Spong Lifetime Achievement Award.
"This new award recognizes an individual who has performed truly extraordinary service and created a lasting legacy which will inspire future generations of leaders," said Foundation President and CEO Al Faber. "That is why we are proud to present the inaugural lifetime achievement award to the man who inspired it and will serve as the award's namesake, E. David Spong."
Dr. Spong has been a Baldrige practitioner and advocate throughout his career, and is a two-time recipient of the Baldrige National Quality Award. He led the Boeing Airlift and Tanker Programs to the 1998 award in manufacturing, and the Boeing's Aerospace Support division to the 2003 Baldrige Award in the service sector.
"I am thrilled to lend my name to this award, but the Baldrige Enterprise is the real champion," said Dr. Spong. "Baldrige recipients serve as role model organizations for everyone else to emulate. Through Baldrige, 'best practice' becomes documented, data driven, evidence-based examples of performance excellence. These examples reach every sector of the economy – manufacturing, small business, service, health care, education, the nonprofit sector and government, and beginning last year, cybersecurity. Baldrige is a recipe for first-class performance."
"David's career spans over five decades and encompasses many, varied leadership roles," continued Faber. "At every step David has been a champion of the Baldrige Framework and the Baldrige Enterprise. The Baldrige Foundation is honored to present this award to him, and future leaders who embody his lifetime commitment to quality."
Contact: Mark Wayda
202-559-9195 or mwayda@baldrigefoundation.org