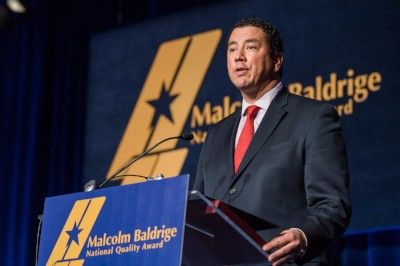 Christian Johansson, Head of Strategic Partnerships and Initiatives for Laureate Education, announces the new alliance for educational opportunity between Walden University, a subsidiary of Laureate Education, and the Baldrige Foundation at the Baldrige Quest for Excellence© Conference in Baltimore, April 4, 2017.
Washington, D.C. – The Baldrige Foundation and Walden University today announced a joint initiative that advances and accelerates higher education opportunities for the Baldrige Community. This collaboration provides access to higher education opportunities in several of Walden's doctoral and certificate programs in support of national and state Baldrige programs.
Additionally, for members of the Baldrige Community who are enrolled in the Doctor of Business Administration (DBA) program, there is an opportunity to participate in a Consulting Capstone project option as an alternative to the traditional doctoral study for a limited number of participants. Students can apply to serve as consultants to an organization where they will use the knowledge and skills gained from their doctoral study and their Baldrige examiner training to conduct in-depth research and collaborate with clients to help organizations bring about positive social change.
You can find more information about the benefits available to the Baldrige community and how to access those benefits on Walden's Baldrige page here: https://www.waldenu.edu/baldrige.
"Volunteer examiners and judges spend hundreds of hours each year evaluating applicants in state and national award programs," said Foundation President and CEO Al Faber. "This is a tangible opportunity to reward their commitment and to further their own professional development."
Walden University is accredited by The Higher Learning Commission, www.hlcommission.org.
"Through the alliance with Walden, Baldrige members will have the opportunity to gain relevant knowledge that can be applied immediately to their careers and roles to directly affect solutions to critical societal problems," said Dr. Freda Turner, Dean of the School of Management at Walden University. "We look forward to joining forces with Baldrige to offer educational opportunities that focus on real-world challenges and inspire positive social change."
About Walden University:
For more than 45 years, Walden University has supported working professionals in achieving their academic goals and making a greater impact in their professions and their communities. Today, students from all 50 states in the U.S. and more than 155 countries are pursuing their bachelor's, master's or doctoral degrees online at Walden. The university offers more than 80 degree programs with more than 400 specializations and concentrations. Walden University is accredited by The Higher Learning Commission. Walden is one of more than 70 institutions in 25 countries that comprise the Laureate International Universities network. For more information about Walden, visit www.WaldenU.edu.