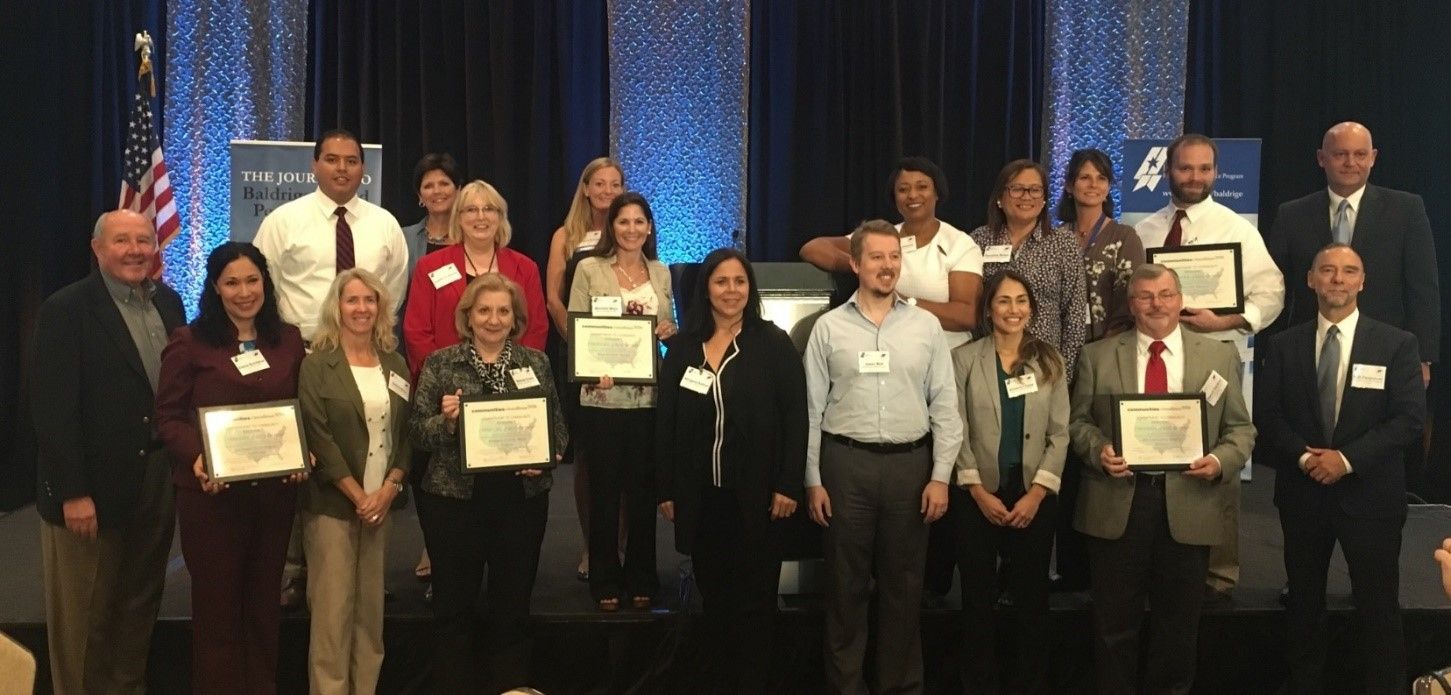 Above from left to right:
First row: Lowell Kruse (COE 2026 Chair), Elena Quintanar (San Diego South Region, CA), Valerie Brew (San Diego South Region, CA), Brenda Grant (Kanawha County, WV) Margaret Sotham (West Kendall, FL), Jason Bell (West Kendall, FL), Ximena Lopez (West Kendall, FL), Darrell Gardner (Brookfield/Marceline, MO), Bob Fangmeyer (Baldrige Program Director)
Second row: Manuel Castaneda (San Diego South Region, CA), Judy Crabtree (Kanawha County, WV), Michelle Mejia (West Kendall, FL), Karen Vassell (West Kendall, FL), Rosalina Butao (West Kendall, FL), Donell Robidoux (Maryville, MO), Josh McKim (Maryville, MO), Al Faber (Baldrige Foundation President)
Third row: Liz Menzer (Alliance for Performance Excellence), Stephanie Norling (COE 2026 Director)
Washington, D.C. – During the Baldrige Fall Conference in Tempe, Arizona, Al Faber, President and CEO of the Baldrige Foundation recognized the first five communities to receive their Commitment to Community Excellence Recognition in the Communities of Excellence 2026 (COE2026) initiative.
COE2026 was created by Lowell Kruse, its current chair, and Rick Norling. Both are former CEO's of Baldrige award recipient organizations. During his remarks, Faber said "both Lowell and Rick are truly great Americans, having underwritten this community-based improvement initiative founded on the Baldrige criteria. COE2026 has the potential to transform communities in a collaborative way never seen before."
In September, these five communities submitted their Baldrige-based Community Profile, an example of an improvement they've made as a result of their Process Improvement System, and the key results they intend to track on their Communities of Excellence journey. A volunteer team of reviewers then provided an assessment of the Profiles, including highlights and considerations to help the communities better serve their residents and continue their community performance excellence journeys.
The five communities are: Brookfield/Marceline, Missouri; Kanawha County, West Virginia; Maryville, Missouri; San Diego County's South Region, California and West Kendall, Florida.