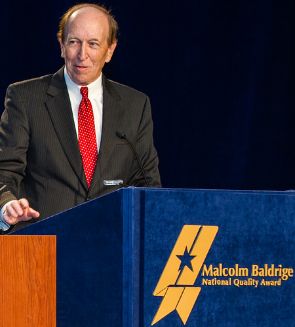 P. George Benson, Ph.D., shown here hosting the 2016 Baldrige National Quality Award ceremony, was elected to a third consecutive term as the Foundation Board Chair.
---
Washington -- The Board of Directors of the Foundation for the Malcolm Baldrige National Quality Award announced its officers for 2018.
"This is such an important moment for the entire Baldrige Enterprise as we work to stabilize congressional support and long-term funding," said Foundation President and CEO Al Faber. "The Board recognized the substantial progress we have made over the past year and voted to maintain leadership consistency, returning all officers for another term."
The Foundation Board officers for 2018:
• Chair, P. George Benson, Ph.D., President, College of Charleston – retired
• Vice Chair, Kathryn Eggleston, Ph.D., President, Richland College
• Secretary, Paul W. Worstell, President, PRO-TEC Coating – retired
• Treasurer, Frank Fusco, Executive Director, South Carolina State Government – retired
• Immediate Past Chair, Debbie J. Collard, Director, Program Management, Integration & Development, Boeing Corporate – retired
Dr. Benson was born in Lewisburg, Pennsylvania and graduated from Bucknell University with a B.S. in mathematics. He did graduate work at New York University and earned a doctorate in decision sciences from the University of Florida. Dr. Benson taught in the Carlson School of Management at the University of Minnesota, served as the dean of the Rutgers Business School at Rutgers University and as dean of the Terry College of Business at the University of Georgia, prior to serving 8 years as the president of the College of Charleston, where he continues to teach statistics. Dr. Benson serves on the boards of directors of three public companies— AGCO Corporation, Crawford & Company, and Primerica, Inc.—and has been recognized for exemplary leadership in that capacity.
His service to the Baldrige Enterprise includes being appointed to the nine-member panel of national judges for the Malcolm Baldrige National Quality Award and serving as a member of the Baldrige Board of Overseers, including a two-year term as chair, prior to being elected to the Baldrige Foundation Board of Directors in 2007. The Board's decision today returns Dr. Benson as chair of the Foundation Board for a third consecutive term.
"I am honored to have been reelected as chair at this critical time in the history of the Foundation and the Malcolm Baldrige National Quality Award," said Dr. Benson. "I am pleased to be able to continue supporting and helping to guide our ongoing efforts to transform and strengthen the entire Baldrige Enterprise."
Baldrige is a systems level, customer driven organizational assessment and design approach that has proven to enhance the performance of organizations across every sector of the economy compared to their non-Baldrige peers. Baldrige generates an empirically-documented return on investment of $820 in cost savings and performance enhancements for each $1 spent supporting the Baldrige Enterprise,. To review the relevant data, click here: https://www.nist.gov/baldrige/how-baldrige-works/about-baldrige/baldrige-impactst