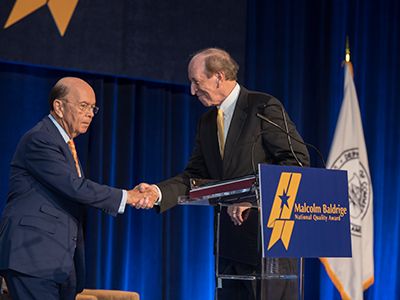 P. George Benson, Ph.D., seen here introducing Commerce Secretary Wilbur Ross to present the Malcolm Baldrige National Quality Award, an award presented by the President of the United States to the top performing organizations in the country. Benson was a national judge and chaired the Board of Overseers for the Baldrige Award in 2005-2006, and has chaired the Board of Directors of the Foundation for the Malcolm Baldrige National Quality Award since 2013, being reelected three times. His current term ends in December 2019.
Marquis Who's Who, the world's premier publisher of biographical profiles, presented Dr. Benson with the Albert Nelson Marquis Lifetime Achievement Award. Dr. Benson was selected on the basis of current reference value. Factors such as position, noteworthy accomplishments, visibility, and prominence in a field are all taken into account during the selection process.

Dr. Benson has been a Professor Decision of Sciences at the College of Charleston in South Carolina since 2014. He formerly served as the college's president from 2007 to 2014. During his career in academia, which started in 1977, Dr. Benson has held several other administrative roles. He was the Simon S. Selig, Jr. Chair for Economic Growth and Dean of the University of Georgia's Terry College of Business from 1998 to 2007. He served as Dean of the Rutgers Business School at Rutgers, the State University of New Jersey, from 1993 to 1998. At the University of Minnesota's Carlson School of Management, he was a professor (1977-1993), head of the Decision Sciences Area (1983-1988), and Director of the Operations Management Center (1992-1993). During his time at Minnesota, he taught statistics, quality management, and decision analysis.

Prior to joining the faculty at the University of Minnesota, Dr. Benson was a Member of Technical Staff at AT&T Bell Telephone Laboratories in Whippany, NJ, from 1969 to 1971, working in the area of information systems. He also worked for the U.S. Army Security Agency in Arlington, VA, from 1968 to 1969, as a management analyst in the area of personnel planning.

As President of the College of Charleston, he focused on initiatives to improve the college's operations and future development. Dr. Benson reorganized and streamlined the reporting structure of the senior administrative leadership, rebuilt the college's Institutional Advancement Division, and created several new offices including a Legal Affairs Office, an Office of Sustainability, and an Office of Institutional Events. He introduced a new performance-based merit review system for evaluating and rewarding faculty and acquired state approval for the college's long sought after MBA degree program. He established new student safety and security programs, including the Cougar Shuttle and Cougar Alert and, most impressively, led a comprehensive strategic planning process involving faculty, staff, alumni, friends, legislators, and other important constituents across the state and the nation. Furthermore, Dr. Benson led the development of both a new master plan for the campus and the college's first-ever diversity strategic plan, which was approved by the board in April 2012.

During his years at the University of Georgia, Dr. Benson led the establishment of a customized MBA program for IBM Business Consulting Services, as well as an Executive MBA program in Atlanta and an Evening MBA program for the U.S. Department of Energy at the Savannah River Site in Aiken, SC. He also led the development of a Music Business Program on the Athens campus and was active in leading the planning, acquisition, design and development of Terry College of Business' 28,000 square foot Executive Education Center in the Buckhead section of Atlanta. The center became home to the Executive MBA Program, the Directors' College, Terry Third Thursday Speaker Series, the Evening MBA Program and several executive programs. For the main campus in Athens, he developed the vision and initial architectural plans for the Terry College of Business' new six-building campus that will be completed in 2019. Dr. Benson is also known for enhancing and promoting the Business School's Terry brand.

While serving as dean at Rutgers Business School, Dr. Benson led the merger of the Graduate School of Management, the School of Management at Newark, and the School of Business at New Brunswick in 1996. He established executive MBA programs in Beijing and Singapore and started off-campus, part-time MBA programs, including one in partnership with Merrill Lynch at their corporate campus near Princeton, NJ.

Dr. Benson's research interests include quality management, strategic planning, corporate governance, belief formation, judgmental forecasting, and applied statistics. He has written extensively as a result of his research in such publications as Decision Sciences, Management Science, Journal of Quality Technology, Journal of Production and Inventory Control, Journal of Finance, and most recently, in the Baldrige Foundation's Journal of Performance Excellence.

Dr. Benson has consulted nationally in the areas of applied statistics, quality management, employment discrimination, and corporate governance. He has delivered dozens of major speeches on numerous topics at national conferences, universities, businesses, and clubs. Also, for 21 years, he was actively involved in the national initiative, launched by the University of Chicago, to improve the teaching of statistical thinking and quality management in schools of business.

Dr. Benson serves on the boards of directors of three public companies: AGCO Corporation, Crawford & Company, and Primerica, Inc. He is the Lead Director of Primerica's board and Chairs the Governance Committee of all three boards. He also serves on the South Carolina Advisory Board of Synovus Financial Corporation.

He is also on the board of the Gaillard Performance Hall in Charleston, SC.

Professor Benson is co-author of one of the leading textbooks in business statistics, Statistics for Business and Economics. The book was first published in 1978. Its 13th edition was published by Pearson in 2018. He was also a bimonthly columnist for Georgia Trend, a statewide business and politics magazine, from 1998 to 2006, during which time he delivered over 100 economic outlook speeches across the state of Georgia. He has authored dozens of articles in scholarly journals, magazines, and op-eds as well. 

Dr. Benson was named a fellow of the Decision Sciences Institute in 2000. He has been a longtime member of the American Statistical Association, The Institute for Operations Research and Management Sciences, the American Society for Quality, and the National Association of Corporate Directors (NACD), among others. He is currently a member of NACD's Nominating and Governance Committee Chairs Advisory Council.

In December 2015, Dr. Benson received the Outstanding Director Award from the Atlanta Business Chronicle for his service as lead director of Primerica's Board of Directors. In 2011, he won the Milliken Medal of Quality from the South Carolina Quality Forum. Dr. Benson has received several other awards, grants and fellowships throughout his career and was named one of the "Top 100 Business People in New Jersey" by Business News New Jersey in 1996. He has been cited in multiple editions of Who's Who in America, Who's Who in Finance and Business, and Who's Who in Science and Engineering.

Dr. Benson received a Bachelor of Science in mathematics from Bucknell University in 1968, followed by postgraduate work in operations research at the New York University Tandon School of Engineering between 1970 and 1971. He then earned a Doctor of Philosophy in decision sciences, with minors in statistics and economics, from the University of Florida in 1977. He received an honorary Doctor of Humane Letters from The Citadel in 2008. Originally from Lewisburg, PA, Dr. Benson played varsity golf at Lewisburg High School and Bucknell University and he still loves to play the game. He married Jane Oas Benson in 1982 and they have three children, Jeff, Laura, and Alison. 

In recognition of outstanding contributions to his profession and the Marquis Who's Who community, P. George Benson, Ph.D., has been featured on the Albert Nelson Marquis Lifetime Achievement website. Please visit www.ltachievers.com for more information about this honor.