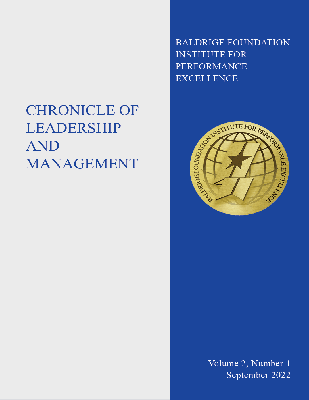 WASHINGTON, D.C. – September 6, 2022: The Baldrige Institute for Performance Excellence is proud to announce that Volume 2 Number 1 of the Chronicle of Leadership and Management is now available. You may download a complimentary digital copy here: Download the Chronicle

Hard copies of the Chronicle will soon be available for purchase on the Foundation's website.
"The Institute strives to be a thought leader in the study, promotion, and practice of performance excellence, leadership, and management, and the Chronicle of Leadership and Management is our flagship publication" said Al Faber, President and CEO.

Much of Volume 2 examines how organizations have used Baldrige principles to manage through the multiple crises experienced during the COVID-19 pandemic. The various authors have gleaned important lessons that may be applied by other organizations, in any sector of the economy, to create greater resilience when facing volatility and uncertainty.

The Institute is also excited to publish Christel Gollnick's article, "Key Success Factors in Communities of Excellence," a particularly timely article on Communities of Excellence 2026 given that Congress has just authorized communities as the 7th sector for the Baldrige Award!
Download your complimentary copy today, and share these informative essays with your colleagues.