"Best Practices from Baldrige Award Winning Communities during the COVID-19 Pandemic"
Thursday, September 24, 2020; 1:00 PM - 2:00 PM EST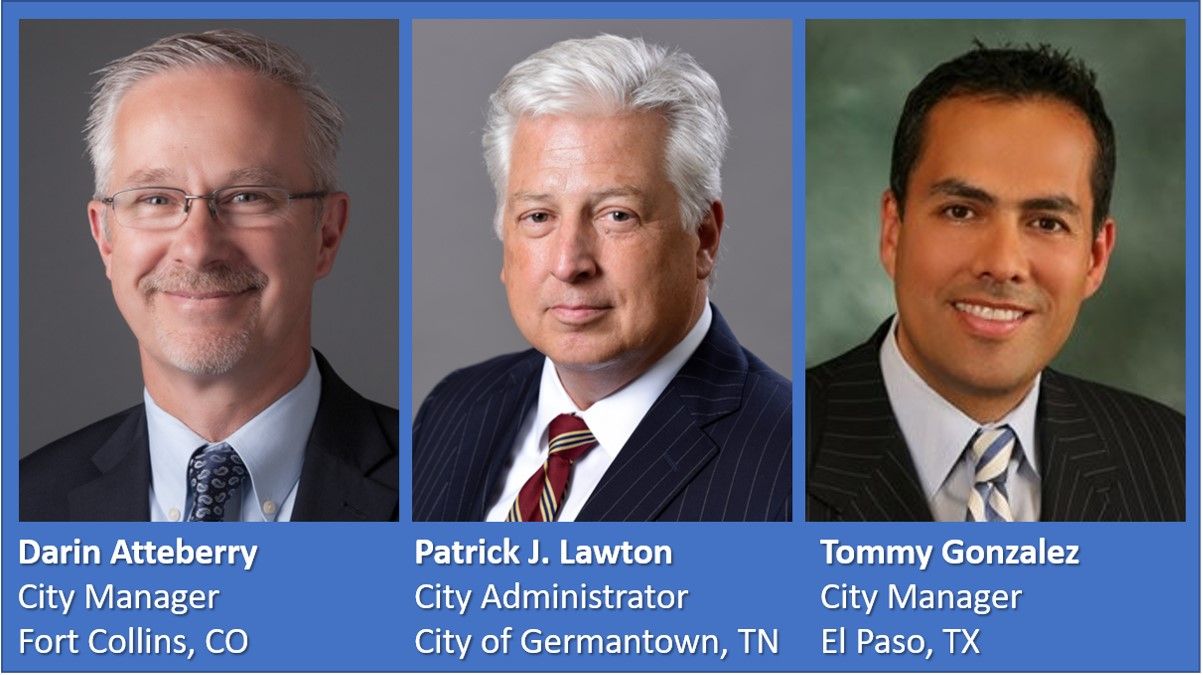 This webinar will share best practices from a variety of Baldrige National Role-Model Leaders and Communities during the COVID-19 Pandemic. It will feature insights and observations, as well as practical considerations for workforce engagement, strategic planning, agility, and innovation to meet the critical demands for operational success and excellence.
Our guest presenters for this webinar are:
Darin Atteberry, City Manager, Fort Collins, Colorado
Darin Atteberry is the City Manager for the City of Fort Collins, Colorado, a position he has held since December 2004.
As City Manager, Darin has led the city government through a time of transformational change, moving the organization from a "trust us" model to one that uses a data-driven, performance-based approach. Darin is an advocate for community collaboration and has built strong relationships with both public- and private-sector partners. He serves as Vice Chair of the Alliance for Innovation and is a member of the Center for Public Safety Excellence Board of Directors. In 2013, Darin was named Entrepreneur of the Year by the Colorado State University College of Business. In 2016 he was elected as a Fellow with the National Academy of Public Administration. Recently, Darin received the Colorado Governor's Citizenship medal, recognizing him as a leader who serves the public with innovation, operational excellence and progressive vision.
Prior to coming to Fort Collins, Darin worked with cities in California, Washington, and Georgia. He attended Harvard University's Senior Executive Program in State and Local Government. He holds a Master of Science in Civil Engineering and Master of City Planning at Georgia Institute of Technology. He received a Bachelor of Science in City and Regional Planning from California Polytechnic State University.

Patrick Lawton, City Administrator, City of Germantown, Tennessee
The City of Germantown Administration Department is led by City Administrator Patrick J. Lawton who has served as the City Administrator since 1989 and is responsible for the day to day operations of the City.
In his role, Lawton is responsible for managing a team of professional public servants and is guided by the City of Germantown and International City/County Management Association (ICMA) code of ethics. Lawton earned a Bachelor of Science and a Masters in Public Administration from Indiana State University. Lawton is married to Cathy and together they have three children and five grandchildren.

Tommy Gonzalez, City Manager, El Paso, Texas
Tommy Gonzalez was appointed City Manager of El Paso, Texas, in June 2014. As City Manager, Mr. Gonzalez leads the 20th largest city in the United States.  Mr. Gonzalez is a results-oriented, strategic leader with approximately three decades of management experience in the public sector; with some experience in the private sector. Currently, he oversees a budget of $1 billion in operations and $1 billion in capital expenditures; while leading more than 6,000 employees.
In 2019 and again in 2020, Mr. Gonzalez led his team in making national history, as the City of El Paso became the largest municipality to earn the Texas Award for Performance Excellence from the Texas Quality Foundation two years in a row. Additionally, under Mr. Gonzalez's tenure, the City has maintained its double AA financial rating by improving accuracy in revenue and expenditure estimates, providing year-end reporting to the City Council, and five consecutive years of General Fund surplus.
Prior to working in El Paso, Mr. Gonzalez served as City Manager in the City of Irving, Texas. Under his leadership, the City of Irving earned the Texas Award for Performance Excellence from the Texas Quality Foundation.  The City of Irving also won the Malcolm Baldrige National Quality Award; the nation's highest Presidential honor for performance excellence. Mr. Gonzalez retired as a Lieutenant Colonel after serving 22 years in the U.S. Army. He holds a Masters of Public Administration degree from Texas Tech University in Lubbock, Texas, and a Bachelor of Science degree from Eastern New Mexico University in Portales, New Mexico.
The session will be moderated by Al Faber, President and CEO, Baldrige Foundation.
At the end of the roundtable discussion there will also be updates from the Baldrige Foundation, Baldrige Performance Excellence Program, and Alliance for Performance Excellence.
We look forward to connecting with you on September 24th!