"Finding Our New North Star" in Rural Healthcare - Post COVID-19
Thursday, June 25, 2020; 1:00 PM - 2:00 PM EST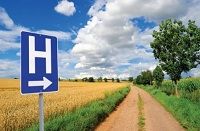 This webinar will explore ideas and thoughts guiding rural healthcare in planning for the post COVID-19 Pandemic era. It will feature industry-wide trends and observations, academic considerations for professional development and staffing, with best practices and insights from senior leaders at the state-association level and Baldrige award-winning hospitals.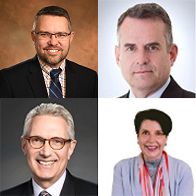 Our guest presenters for this webinar are:
Benjamin Anderson, MBA, MHCDS, Vice President, Rural Health and Hospitals at Colorado Hospital Association
Benjamin is the Vice President of Rural Health and Hospitals for Colorado Hospital Association. He provides leadership and direction in the development and execution of the Association's rural strategies, advocates on behalf of rural hospitals and health systems and works to develop strategic partnerships with organizations that affect the health of rural Coloradans. Benjamin has 20 years of experience in health care and nonprofit administration, and is a nationally-recognized leader in health equity and transforming rural health care through an innovative approach to attracting physicians to diverse, underserved areas with a generous paid time off package to be used for international volunteer work. Prior to joining CHA, he spent six years serving as the CEO of Kearny County Hospital in Lakin, Kansas
Rulon Stacey, Ph.D., Director, Graduate Programs in Healthcare, University of Colorado. 
Rulon is a former Chair of the Board of Governors of the American College of Healthcare Executives (ACHE) and twice named by Modern Healthcare as one of the top 100 most influential people in American Healthcare. He is also Chair of the International Hospital Federation's CEO Circle and was granted Honorary Membership in IHF in 2017. Dr. Stacy received his Ph.D. in Health Policy from the University of Colorado at Denver, and Master of Health Administration and Bachelor of Science in Economics from Brigham Young University.
Chuck Stokes, Founding Partner of Relia Healthcare Advisors
In December of 2019, Chuck retired as President and CEO of the Memorial Hermann Health System in Houston Texas where he spent 8 years as the System COO and 2.5 years as the System President and CEO. He started his career as a critical care nurse receiving  his BSN from the University of Mississippi and transitioned to executive healthcare leadership after receiving his MHA from the University of Alabama in Birmingham. Chuck is a two time recipient of the Malcolm Baldrige National Quality Award in 2006 and 2016. He also served as Chairman of The Board of Governors of the American College of Healthcare Executives and was recently named as the 2020 Gold Medal Recipient for ACHE. In 2020, he was named by Modern Healthcare as one of the Most Influential People in American Healthcare.
Jayne Pope / RN, MBA, FACHE, CEO of Hill Country Memorial - 2014 Malcolm Baldrige National Quality Award recipient.
Jayne is a member of the Texas Hospital Association Board of Trustees, a Board Member of the Texas Organization of Rural and Community Hospitals, and a member of the ACHE Nominating Committee. She was recognized by Becker's Hospital Review as one of America's 60 rural hospital and health system CEOs to know from 2013 through 2019. In 2020, Jayne received the Baldrige Foundation's Harry S. Hertz Leadership Award. Prior to accepting the position of CEO of Hill Country Memorial in 2013, Jayne served as Chief Nursing Officer at HCM. Hill Country Memorial has been an 8-year recipient of the TOP 100 Hospital Award during Jayne Pope's tenure as CNO and CEO.  Formerly, Jayne was the CEO of Clinic Systems at a large network of clinics in Central Texas, which she led in achieving the highest level of Patient Centered Medical Home recognition. Jayne holds a Master of Business Administration from The University of Western Ontario Ivey Business School and a Bachelor of Science in Nursing from The University of Western Ontario.
The presentation will be moderated by Al Faber, CEO/President of the Baldrige Foundation. 

We look forward to connecting with you on June 25th!