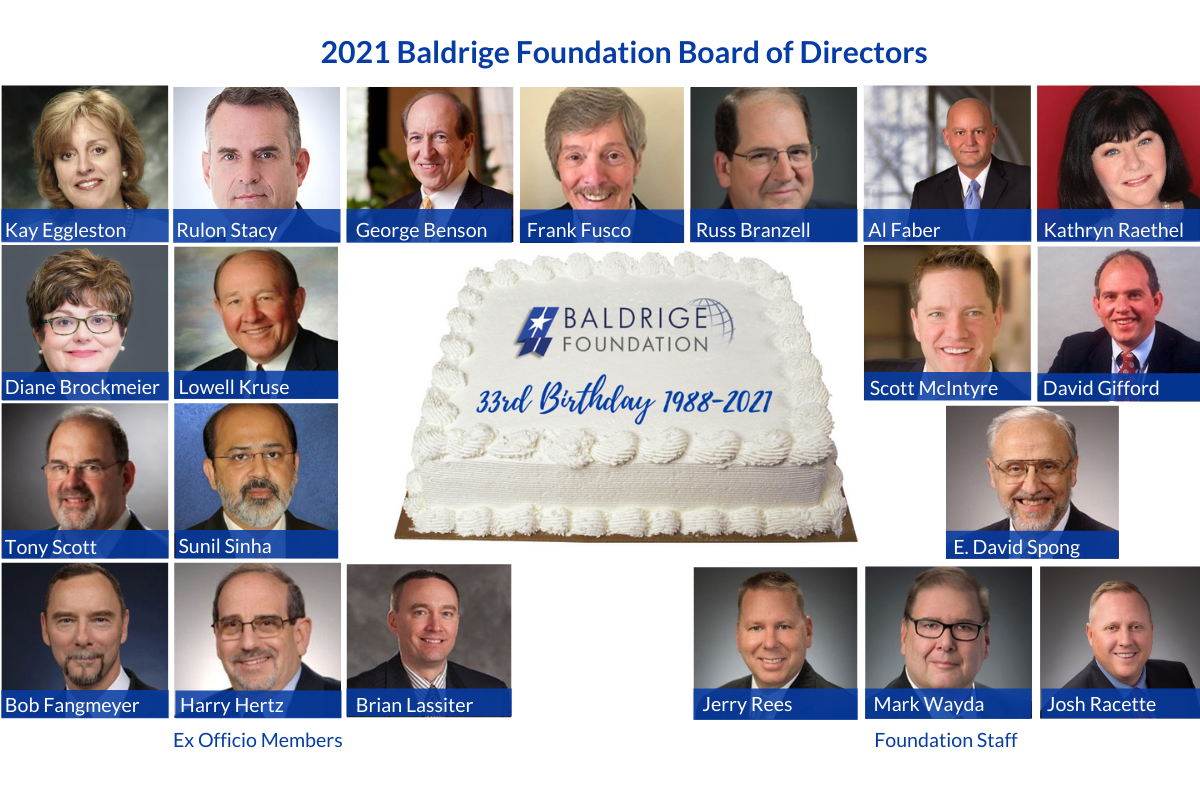 "Today, February 8, 2021, we celebrate the 33rd anniversary of the incorporation of the Baldrige Foundation" said Foundation President and CEO Al Faber. "From the beginning, the Foundation has been the primary source of private funding in support of the Malcolm Baldrige National Quality Award and the Baldrige Performance Excellence Program (BPEP) within the National Institute of Standards and Technology (NIST) and the Department of Commerce." 
Public Law 100-107 established the Malcolm Baldrige National Quality Award in 1987. It also established a link between the public and private sectors to share the responsibility of maintaining and promoting performance excellence and the Baldrige Award. The legislation provides the U.S. Secretary of Commerce the authority to seek and accept gifts from private sources to carry out the program. The Foundation for the Malcolm Baldrige National Quality Award was created to raise funds to endow the Award.
"The role of the Foundation," Faber continued, "is to help secure the future of the National Quality Award Program, and we do that by raising private funds and advocating for the program. Since 1988, the Foundation has transferred to the Department of Commerce over $40 million dollars in support of the Baldrige Program." 
"We must continue to build private-sector support for the Baldrige Program and its future," said Faber, "while at the same time, educating members of Congress and the Administration about the positive impact Baldrige is having throughout the American economy, in communities across the United States, in cybersecurity, and in rural health care.
Baldrige is a leadership and management framework with a systems-level, customer-driven organizational assessment and design approach that has proven to enhance the performance of organizations across every sector of the economy compared to non-Baldrige peers. Baldrige generates an empirically-documented return on investment of $820 in cost savings and performance enhancements for each $1 spent. The relevant data can be found here. 
In addition to its role supporting BPEP, the Foundation has become a thought leader in leadership and management science. "We established the Institute for Performance Excellence to grow the intellectual underpinnings of performance excellence," said Faber, and to facilitate a growing and connected base of senior leaders and quality professionals."
"This is the legacy and future we are working hard to promote each and every day here at the Foundation," said Faber.
To help us build Baldrige into the future, please support us today!