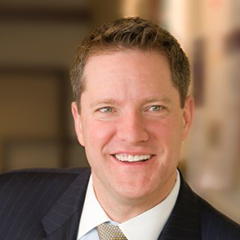 The Foundation for the Malcolm Baldrige National Quality Award seated a new member on its Board of Directors during its January meeting when Mr. Scott McIntyre began a two-year term.
"We are excited to welcome a professional of such high regard in the business community to our board," said Foundation President and CEO Al Faber. "In addition, Scott's experience leading a Baldrige-recipient organization gives him a unique perspective on the Baldrige process that will strengthen our relationships across the Baldrige Enterprise and with organizations considering Baldrige as their leadership and management framework."
Mr. McIntyre is the President and CEO of PricewaterhouseCoopers (PwC) Public Sector LLP; a business he has led since 2005 where he spearheaded PwC's Public Sector Baldrige Journey, culminating in being named a recipient of the Malcolm Baldrige National Quality Award in 2014.
"Through our work with the Baldrige Criteria I came to appreciate its power to drive organizational excellence and quality, focused on the outcomes that matter most to our clients," said Mr. McIntyre. "As a board member I hope to focus on amplifying the Baldrige brand so that leaders in all fields--business, manufacturing, healthcare, education, cybersecurity and nonprofits—can tap into the productivity and efficiency growth Baldrige provides."
Baldrige has an empirically-proven return on investment of $820 for each $1 spent supporting the Baldrige Enterprise, with proven performance enhancement relative to similar non-Baldrige organizations in every field across the economy. To review the relevant data, click here: https://www.nist.gov/baldrige/how-baldrige-works/about-baldrige/baldrige-impacts